I found the. coolest. website. yesterday.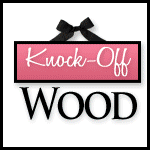 This very talented woman takes Pottery Barn furniture, Williams-Sonoma, West Elm, etc. and creates plans that are user-friendly to help us poor people
build
their furniture.
I showed this website to Daniel yesterday and he was in heaven. So far we've made plans to re-create the following:
http://knockoffwood.blogspot.com/2009/12/plans-little-farmhouse-table-for.html
http://knockoffwood.blogspot.com/2010/01/plan-hyde-side-table.html
http://knockoffwood.blogspot.com/2010/01/plan-hyde-console-table-pottery-barn.html
I'll be the photo-journalist keeping record of our progress. And I might jump in as assistant carpenter at some point.
Last night I told Daniel, "We could just take the list of lumber she provides to a lumber yard and get the lumber guy to measure and cut the pieces and we'd be all set!"
He told me if I wanted to do it that way, I'd have to do it myself.
What? Why?
And he said, "I
could
walk in and say (his pitch went waayyyy up) '
can you please cut this wood for me in these sizes, I don't know what I'm doing!'
if I wanted to walk out with my..." Nevermind. I can't repeat what he said...it had something to do with nether regions.
So, I guess it's a macho thing.